MJX Bugs Quadcopter Drone With 1080P HD Camera and 5G WIFI
ARE YOU ON A HUNT FOR QUADCOPTER DRONE WITH THE BEST CAMERA OUT THERE?
With 5G WIFI 1080P, this is the best buy drone camera if you're really serious about the quality of your images and video.
This selfie drone has a new generation two-way 2.4Ghz remote control to enhance distance control of the transmitter to 200-300 meters for the ultimate flying experience.
1080p HD Camera
Bugs 5W assures to give you high-quality photos and videos with its built-in 1080p HD Camera. It aims to provide you with the best shots and produce stunning videos that will capture every special moment you have. If you love taking high-quality pictures, then this is your go-to camera drone.
5G/WIFI Real-Time FPV Flight
Enjoy a First-Person View of the drone's aerial coverage through MJX Go App. See the sceneries captured by the drone in real-time using either 5G or Wifi on your smartphone. No more waiting time! Fly your drone and see the beautiful view from the top instantly and up to it reaches the preferred altitude.
Brushless Motor
Hate the loud buzzing sound you hear on recorded videos from drones?  Or, perhaps you don't want anyone to notice your drone when in flight? Well, this drone is the answer to your dilemma! Bugs 5W is built with a brushless motor so that it will fly flawlessly fast and quiet.
LED Lights
Afraid to fly the drone at night? Worry no more! You can fly this drone anytime you want! It is designed with built-in LED lights so that it is visible even during dark hours. This drone does not only boasts its HD Camera but as well as exceed the limits of the regular drones.
Altitude Hold
Ever experienced flying a drone that will randomly change elevations. This model is unlike your regular drone. Bugs 5W is capable of flying on a stable flight maintaining a fixed altitude to make sure it produces clean and sharp aerial shots.
Follow Me Mode 
What's exciting about this model is the autopilot features available to make everything easier but more stimulating. It has a Follow Me feature where it will fly without the need for commands or controls. Where will it head to? Anywhere you will go! This drone will recognize your presence and movements and then it will automatically follow your directions. It's the perfect camera drone for capturing hardcore outdoor activities!
One-Key Return/Landing
This feature is also an autopilot mode where the drone will fly independently back to the saved home location in just one toggle. This One-Key Return and Landing mode is perfect in case you lost sight of your drone or you're too tired to control it back to you. 
Point of Interest
If you want your drone to circle around over a target location, you don't have to manually direct it to fly around the spot. You can just use its Point of Interest mode so it will automatically fly around in clockwise over the chosen point. This feature helps a lot if you want to guard or look for something in a specific area.
Waypoints Fly
Another autopilot feature that this drone is capable of is flying independently through saved waypoints. This mode allows the pilot to set waypoints in the surroundings and these will serve as stopping zones for the drone. You can use the same waypoints over and over again any time you want.
Built-In Gimbal
Capable of shooting high-quality videos and images, this drone is powered by a handheld gimbal to control the stability of the camera so that it's free from vibrations and shaking while taking photographs or recording videos. It is by far one of the best camera drones in the market.
Headless Mode
What makes this drone interesting is that it's not just for pro pilots but it is as well user-friendly especially to beginners because of its Headless Mode feature. This function allows the drone to follow every movement and direction from the controller. When this mode is on, the drone will automatically move according to the direction of the controller so the pilot can easily control the drone even with just one hand.
Auto-Return
Another feature of this drone that makes it perfect for beginners is its Auto-Return Function. This feature automatically activates when the drone loses signal or out of control and returns to its initial position. It makes the drone safe from losing or crashing thus saving itself from unwanted damages.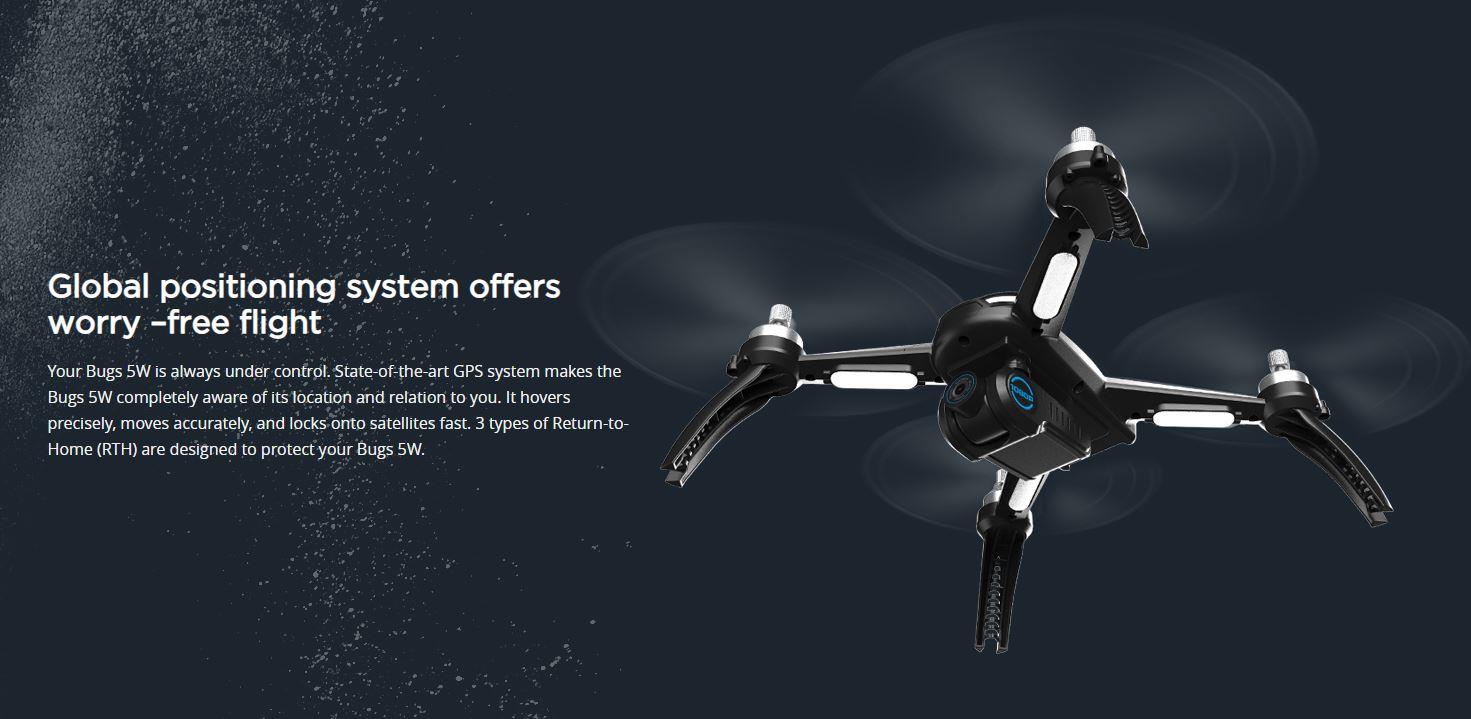 Features:
Remote Control with 2.4Ghz Two-way Communication

5G WIFI 1080P Camera

GPS Positioning: with GPS - enable to hover more accurately and realize the function of follow me, one-key return, surrounding mode and etc

1500KV Brushless Motor - provides strong power for the aircraft

Follow Me Drone – the quadcopter follows you, recording every moment at a certain distance

LED lights – increases visibility at night and makes your flying way cooler

One Key Return and GPS - find the way home easily

Altitude Holding
Package Includes:
1 * MJX Bugs 5W RC Quadcopter

1 * 1080P 5G Camera

1 * 7.4V 1800mAh Li-po Battery

1 * Transmitter

2 * Pairs of Spare Propeller

1 * Phone Holder

1 * Screwdriver Tool Set

1 * USB Plug and Balance Charger

1 * Sticker

1 * User Manual